International Populism Research Network
The International Populism Research Network is based in the Political Theory, History of Ideas and Political Culture section at Kiel University (CAU Kiel). It serves as a platform to facilitate international exchange and initiate publication and research projects on the subject of populism.
The network's activities are centered on new theoretical, qualitative and quantitative approaches to studying the phenomenon of populism worldwide.
It is open to other social science and humanities disciplines beyond the field of political science, such as sociology, philosophy, cultural, media and literature studies, ethnology, visual studies, performance studies, law and history.
The International Populism Research Network organizes academic events (both in-person and online) at CAU Kiel and in collaboration with partner institutes. These include academic conferences, workshops and panels at national and international conferences, international teaching collaborations and events for the general public.
The International Populism Research Network conducts its own research projects and supports doctoral and post doc projects.
It disseminates its research findings in the form of scientific publications and publicizes the core work of its partner organizations.
To give its activities additional visibility, the International Populism Research Network also communicates with the broader public.
POLITICS, POPULISM, CULTURE – THE POLITICS OF POPULIST CULTURE
A conference report by Sebastian Althoff (University of Paderborn) for "Portal für Politikwissenschaft" (pw-portal).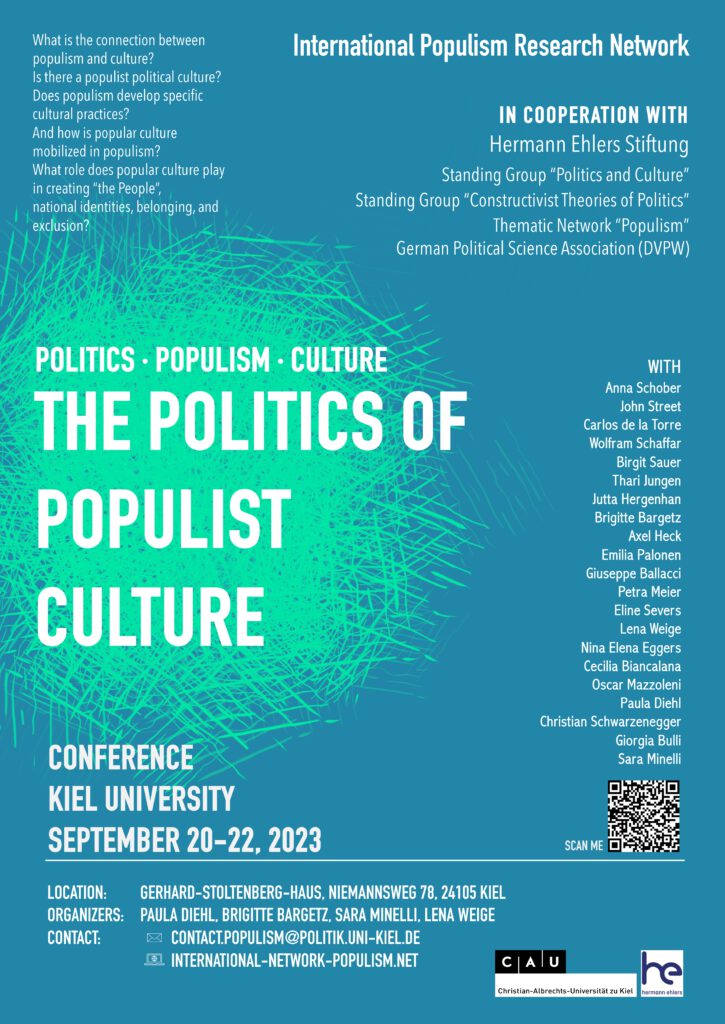 New publication of Paula Diehl and BRIGITTE BARGETZ
The Complexity of Populism - New Approaches and Methods
Much as populism has been researched, it remains a contested notion without coherent definition and methodology, and shaped by dimensions such as ideology, communication style, discourse, mobilization, and organization. It has simultaneously mobilized emotions, produced symbols, and affected subjectivity and gender relations and can manifest itself in different ways and appear in hybrid forms, such as in the cases of Silvio Berlusconi, Hugo Chávez, and Donald Trump.
With chapters by Paula Diehl, Carlos de la Torre, Birgit Sauer, Brigitte Bargetz, Stefan Bird-Pollan, Federico Finchelstein, Giorgia Bulli, Martin Reisigl, Mojca Pajnik, Till Weber.
The book was published on July 3, 2023 and can be ordered here.
Call for Papers – Perspective Conference 

"Is nothing certain anymore? Plural perspectives on political contestation"
Kiel University, March 7 – 8, 2024
The diagnosis that we live in a globalized world of upheaval and a time of multiple crises is omnipresent. This goes hand in hand with the questioning of existing political orders, at the national as well as the international level. Politicization and contestation have become phenomena that affect all aspects of the actions of states and other international, social and economic actors. The range of contestation raises a multitude of questions that have been addressed in different ways by different branches of political science.
We invite scientists of all qualification levels to send their contribution proposals in the form of an abstract of maximum 300 words to perspektivtagung@politik.uni-kiel.de by 26/11/2023. perspektivtagung@politik.unikiel.de zu senden.
Challenging Democracy - Closing Conference of the Project "Normalizing the Far Right"
In Europe, USA, Brazil or India, far right-wing ideas – whether combined with populism or not – are penetrating democratic public spheres and deeply affecting politics and society. Far-right ideologies question and even contest key democratic principles such as plurality, equality, and human rights. They are usually located outside the realm of democracy and face strong resistance within the democratic public sphere. However, with the rise of right-wing populism in the new millennium, far-right thinking has become more and more normalized. This normalization of the far right is challenging for democracy. How do antidemocratic ideas, imagination, attitudes, social practices, and affective politics become socially acceptable and how do they affect identity formation? Are there common normalization mechanisms that traverse all these aspects of social life? The conference focuses on mechanisms that normalize the far right, their effects on political culture and institutions, and also analyze democratic resilience within politics and civil society.
Paula Diehl im Interview mit dem ORF Radio

"Wilders' Wahlsieg in den Niederlanden als weiterer Puzzlestein im weltweiten Aufstieg des Rechtspopulismus?
Gast: Dr. Paula Diehl, Professorin für Politische Theorie, Ideengeschichte und Politische Kultur, Universität Kiel. Moderation: Xaver Forthuber. Anrufe 0800 22 69 79 | punkteins(at)orf.at
Diese Woche beginnen in den Niederlanden Sondierungsgespräche nach dem klaren Sieg der 'Freiheitspartei' von Geert Wilders, dem Rechtsaußen-Politiker, der seit Jahren eine EU-, islam- und migrationsfeindliche Agenda verfolgt und von internationalen Medien als 'Dutch Donald Trump' bezeichnet wird. Potenzielle Koalitionspartner:innen verhalten sich zurückhaltend, signalisieren aber doch Gesprächsbereitschaft mit Verweis auf 'politische Verantwortung' und den 'Wählerwillen'. Damit ist Wilders, lange Zeit am politischen Rand verortet, wohl endgültig in der 'Mitte' angekommen."
Der MITEINANDER REDEN Podcast der BPB mit einem Beitrag von Paula Diehl

Podcast zum Thema "Populismus"
"Der Populismus als politische Bewegung zeichnet sich durch eine starke Betonung der Unterscheidung zwischen 'dem Volk' und 'den Eliten' aus. Doch wann wird Populismus zur Gefahr für die Demokratie? Welche politischen und gesellschaftlichen Auswirkungen haben rechtspopulistische Tendenzen in Regionen außerhalb der städtischen Zentren?"
Im Podcast MITEINANDER REDEN, der durch die Bundeszentrale für politische Bildung gefördert wird, bietet Paula Diehl eine wissenschaftliche Einordnung des Populismus, seiner Strömungen und dem möglichen zivilgesellschaftlichen Umgang mit populistischen Tendenzen.
Project (February 2022 - December 2023)
Normalizing the Far Right
How do antidemocratic ideas, imagination, attitudes, social practices, and affective politics become socially acceptable and how do they affect identity formation? Are there common normalization mechanisms that traverse all these aspects of social life? Do they pervade different realms of politics and society such as political communication, media, culture, law, 3 etc. in the same way? And what are the resistance strategies to this normalization in politics and civil society?
Information according to § 5 TMG:
International Populism Research Network
Institute of Social Sciences/Political Science

Dispute settlement: We are not willing or obliged to participate in dispute resolution proceedings in front of a consumer arbitration board.
Liability for contents: As a service provider, we are responsible for our own content on these pages according to § 7 para.1 TMG (German Telemedia Act) and general laws. According to §§ 8 to 10 TMG we are not obliged to monitor transmitted or stored information from third parties or to investigate circumstances that indicate illegal activity. Obligations to remove or block the use of information according to general laws remain unaffected by this. However, liability in this respect is only possible from the time of knowledge of a concrete infringement. If we become aware of any such legal infringements, we will remove the content in question immediately.
Liability for links: Our offer contains links to external websites of third parties, on whose content we have no influence. Therefore, we cannot accept any liability for any external content. The respective provider or operator of the site is always responsible for the content of the linked sites. The linked pages were checked for possible legal violations at the time of linking. Illegal content was not identified at the time of linking.However, a permanent control of the content of the linked pages is not reasonable without concrete evidence of a violation of the law. If we become aware of any infringements, we will remove such links immediately.
Copyright: The content and works on these pages created by the site operators are subject to German copyright law. The reproduction, editing, distribution and any kind of use outside the limits of copyright law require the written consent of the respective author or creator. Downloads and copies of these pages are only permitted for private, non-commercial use.
Insofar as the content on this site was not created by the operator, the copyrights of third parties are observed. In particular, third-party content is identified as such. Should you nevertheless become aware of a copyright infringement, please inform us accordingly. If we become aware of any infringements, we will remove such content immediately.